Does it seem like your Magento Extension not showing in Admin? We can help! One of the great things about Magento is its expandability with the thousands of extensions available on Magento Connect and other sites. While the extensions add additional functionality, and help solve many common problems, there is more complexity to installing and getting them working.
Typically a store owner or administrator purchases the key, downloads the extension and ads it to the Magento Manager. Other times might require FTP-ing the extension files into the site and BOOM, the extension works. However, sometimes the newly installed extension in your site isn't displayed in the admin. So what now?
Backup, Backup, Backup!
First things first, before making any changes to your site, make sure you have a complete and reliable backup of your site!  Make all changes to a development site before adding them to your live site.
Was the Extension Activated?
Second – This may sound basic, but if a Magento Extension is not showing in Admin, it must be activated. Go to System-> Configuration-> Advance ->Advanced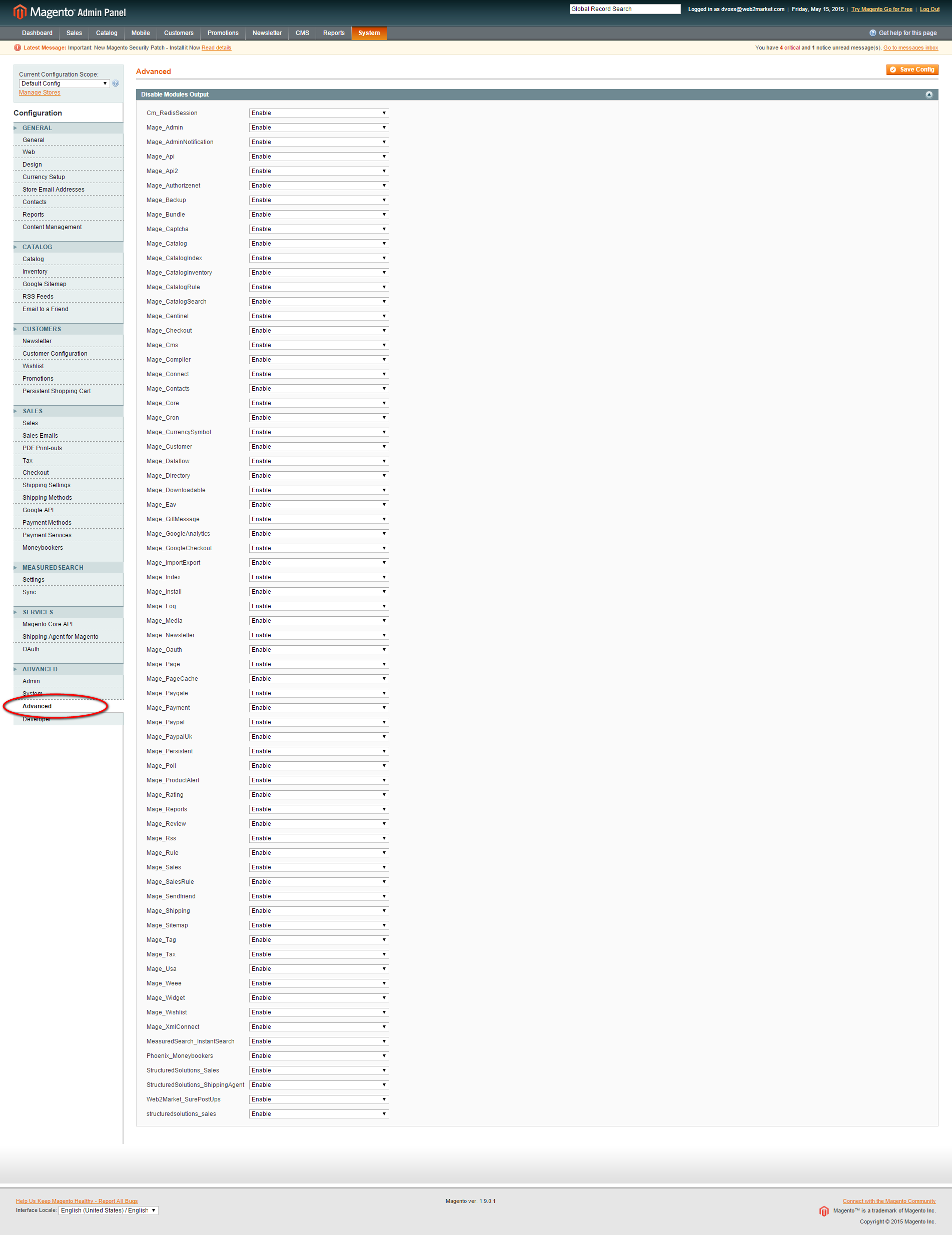 Next find the extension on the list and make sure it is set to "Enabled"

Check Permissions
Third, if you have installed the extension and it's not found in the System->Advanced->Advanced section:
Check the file and folder permissions

Make sure the files and folders have full read & write permissions
Extension is Installed and Enabled but still not in Admin
Fourth, if the extension is installed and enabled and you continue to not seeing the extension in the admin, follow the steps below:
Make sure the extension is compatible with your current version of Magento:

Check MagentoConnect.com, the extension developer's website, or directly contacting the developer of the extension.
Disable Compilation for Magneto 1.4+
Clear store cache

Go to System-> Cache Management and click "Flush Cache Storage, or
Clear the store cache from var/cache folder via FTP
Flush the browser cache
Clear domain cookies
Logout of your admin and then log back in.
If the problem still persists then you may have to uninstall the extension from Magento connect manager or FTP and try to install it again.
Errors, Blank Pages or Other Issues
Finally, if your store still gives an error, blank page, or suggests starting Magento installation procedure after extension installation:
Change the owner of the extracted extension files to the web server user and set 775 permissions on them. Clear the store cache and try again.
If you get a white screen for some or all of your admin console:
Don't have a heart attack

Typically this is because your cache needs to be flushed
If you can get into your admin:
Go to System-> Cache Management and click "Flush Cache Storage"

Log out and then log back in to finish this process
If you cannot log into your admin
Navigate to "Var-Cache" directory of your website
Typically you will see several directories named "mage-*" Delete all of these directories
DO NOT DELETE "Var-Cache" directory
Your cache has now been flushed and you should now be able to log into your admin.
Magento Extension Not Showing in Admin? Still!?
Web 2 Market is here to help. A team of Magento hosting and Magento development professionals that even make their own Magento Extensions, you can rest assured that not only have we seen it all, we will resolve any problem, big or small. Contact us and we'll get the Magento Extension Not Showing in Admin problem resolved.