Loyalty programs are still effective for building brand loyalty, recent research shows. There are a variety of AbleCommerce plugins and Magento loyalty extensions available for use.
Do Loyalty Programs Still Work?
Yes, according to recent research findings by the Bond Brand Loyalty Report (free download). Some key findings:
81% say that programs make them more likely to continue using a brand;
73% are more likely to recommend brands with good loyalty programs;
69% modify when/where they buy in order to maximize points; and
67% modify the brands they purchase to max their points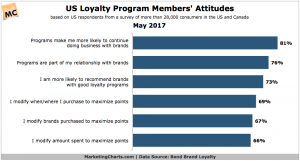 So it seems clear that in the right place, using a loyalty program can work build brand loyalty.
What are the Best Industries for a Magento Loyalty Program?
Here are 3 features to look for to see if its a good fit for your business:
Products that are purchased repeatedly -If a customer is never going to come back, it is be silly to have a loyalty program;
Products with margins over 10% – You will need margin to pay for the extra cost;
Lots of competition in your industry – You need to stand out from competition;
For more info about finding about good fit, visit smile.io.
Some Good Plugins and Extensions to Look At
First, if you using AbleCommerce, consider our Referral and Loyalty plugin. This is our second most popular AbleCommerce plugin. Not only does it provide loyalty rewards, it also doubles as a tool to work with affiliates.
If you're using Magento, visit rewardstream. We built them a very sophisticated Magento Loyalty extension. It rewards both buying and friends and family who buy as well.
Another popular Magento extension is from Smile.io. Although not as sophisticated as rewardstream, it is a lower cost service that has proven results.
In Conclusion…
If your firm has the three attributes described above, try setting up a loyalty program. You'll need to give it time to work, and make it worth the customers' attention. But if successful, you'll find yourself keeping more customers and selling more!
Need the plugins/extensions customized? Looking for a partner who can help you with digital marketing, coding and hosting? Give us a call at 708-653-3100, extension 2.