Updated in late 2016, the Magento User Guide is a PDF file with over 1,000 pages of about managing your Magento 1.9 site. You'll probably find this to be a great tool. It's especially relevant for merchants. The top level sections include:
Introduction – First of all, an overview of the tools available, including documentation, forums, videos, blogs, webinars and more.
Basic Configuration – System requirements, install instructions, downloading Magento CE and more.
Products – Creating products, product types, attributes, setting prices and so forth.
Marketing – Specials, discounts, coupons, wish lists, product compare, social marketing, etc.
Search & SEO – Search tools, managing search terms and SEO best practices, etc.
Content – Content pages, widgets, blocks, variables and other tools for managing site content.
Design – Page layout, page setup and the store theme.
Customers – Customer accounts and customer groups.
Sales – The checkout process and customer accounts.
Payments – Payment methods and PayPal.
Shipping – Shipping methods.
Taxes – Tax settings.
Reports – Reporting on sales and product information.
Store Operations – Currency rates, email templates, data importing transfer, security and admin permissions.
System Operations – Index management, caching, Magento Connect and services.
Appendices – Release notes, change log, glossary and configuration reference.
The Magento User Guide is a detailed document that is a must have for every Magento merchant. As a result, it will both educate you, and be a reference for when you have questions. It is fairly technical. However, even if you're not technical, it will help you learn the many features of Magento CE. Also, it's worth noting that it does NOT cover the EE edition.
Download the Magento User Guide
You'll find the Magento User Guide includes step by step instructions, screen shots of the admin pages and examples. Plus, a thorough reference with information about settings is included. Because the document is free from Magento, the PDF file can be downloaded by clicking one of the links below.
Magento 1.9 Community Edition User Guide.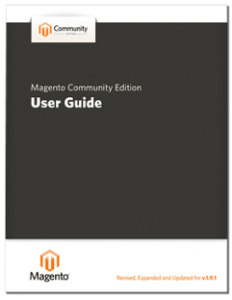 Click on the image above to download the Magento User Guide from Magento.