Selling auto parts online can be a frustrating and a time demanding process. One of the most difficult and time consuming processes clients face is parts application management
Would your site benefit from a Year / Make / Model look up for customers?
Does categorizing parts in a complex web of years, makes, and models taking too much of your time?
Would you like to focus more on sales then application management?
Web 2 Market's Magento auto parts sites make selling your auto parts online easier.
Magento Auto Part Site – ShowMeTheParts Integration with Magento 2

With the ShowMeTheParts Integration (SMTP integration) all the parts application management is taken care of for you by Show Me The Parts. Once signed up for their service, you will have access to over 300 brands with over 1.1 million parts. Web 2 Market will then connect your ShowMeTheParts account with a powerful Magento 2 Auto Parts site. As a result of this integration, you with have up to date parts info with a world class ecommerce or ecatalog site.
Here are a couple live sites using ShowMeTheParts:
Magento Auto Parts Site -Custom Database with Magento 2
Does ShowMeTheParts not have the brands you carry? Do you want to maintain your own data? Do you want to have a year / make / model lookup rather then hundreds of categories? With our custom database Magento auto parts site, we create Magento 2 sites that work with your custom application data. In addition to using your custom data, your customers will be able to search via year / make / model, part number, or cross reference search. As a result, you will will have a fully functional website and your customers will have an easy and effective way of finding the right part the first time!
A live site using a custom database: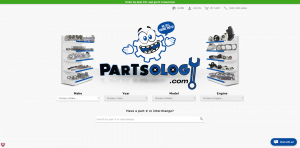 To learn how Web 2 Market can help you sell auto parts online or display your parts on a ecatalog contact us today!