Social media platforms are full of slang words and phrases. Just because it's become socially acceptable among friends to chat about the latest event, cultural topic, or simply what they had for dinner, does not mean consumers want to see their brands use terms for their ecommerce and social media to make them appear on fleek.
As a matter of fact, consumers don't want to see slang at all when looking at an ad. Brands which add in slang words and phrases is simply not 'cool' in the opinion of today's social media savvy consumer.
In a new study from Sprout Social, roughly 1,000 United States social media users weighed in on brand personalities, with most feeling that it's 'cool' if brands talk about timely events, but not politics.
Consumers Know What They Want When it Comes To Ecommerce and Social Media
Consumers are clear about what they want, and don't want, out of their brands. They want their brands to:
Use Video Clips (83% cool)
Respond to questions (83%)
Join Conversations (68%)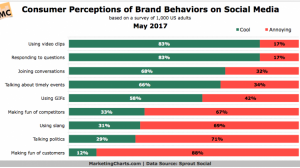 Social media users see these behaviors as 'annoying' than 'cool':
Making fun of competitors (67% annoying) and customers (88%);
Using slang (69%); and
Talking politics (71%).
Companies should leave the competitor jokes, slang and politics for the office water cooler. It doesn't fly on social media. Additionally, only a minority of younger respondents found it cool to use slang or make fun of other brands.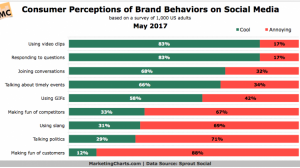 When you plan your ecommerce and social media campaigns, keep these tips in mind. Consumers seek authentic, non-controversial topics. Consumers also ant you, the company, to interact with them on social media. Yes that's right, participate in their conversations.
If you would like more information ecommerce and social media please check out our website or contact us for a consultation. In addition, we can be reached at [email protected].